awkward and awesome thursday.
(self portrait photo challenge winner and finalists announced below!)
awkward
– Having a little girl come up to me and say, "I like your clothes. They actually match your skin!" I was wearing white. Thanks for letting me know that I'm really as pale as I feel.
– Pulling a door that says "push" in huge letters.
– I was sitting on the couch while watching a movie and leaned forward to put my plate of apples and cheese on the coffee table. As I was leaning forward, I fell face first on the floor. And my legs were still on the couch. Have I ever mentioned that I'm a total klutz?
just because it's pretty ;)
– Giving up having a messy room for Lent and having a (somewhat) messy roomy two days into it.
– I woke up in the predawn hours yesterday to Sarge barking nonstop. I looked at my clock, saw it was 6:45am, and got up (much too early for my taste, but I had to be somewhere early). After I'd been up for about ten minutes, I realized my clock was an hour fast. Sigh.
awesome
– Getting my braces off. Having had them on for two years, I was more than ready to get them off. I can't stop smiling! (psst...watch the video! ;))
braces no more
from
carlotta
on
Vimeo
.
I am so ridiculously pale. Man. And I apologize for the loudness of the music in some parts...the movie editor I was using refused to cooperate. Also, I've been planning this little video/vlog for about a month and a half...and then the vlogging craze began in the blog world. Ha. Oh well ;)
– Finding a shirt for seventy five percent off. Score.
I didn't zoom or crop at all...this is really how close I was. (unedited)
– Seeing Ree Drummond (aka The Pioneer Woman), along with her two daughters and her brother Mike at her local book signing. Hello, dream come true?
Unfortunately, I didn't get to meet her – though I did get some pictures – as we didn't get there early enough and it would have taken at least two hours to work my way through the line. She only lives about an hour away from me, though, so I'm sure our paths will cross again somehow.
– Spring. Following a long, snow filled winter (though I really can't complain about winter...some of y'all up north have it much worse!), I'm always ecstatic to see the world burst into pastel blossoms.
– Thread. When the world was cloaked in a drab grey, I found myself reaching for a Mason jar and some colorful thread. Love.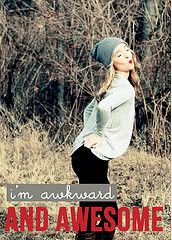 ––––
The finalists for the self portrait photo challenge are
Mikayla
,
M
, and
Carmen
.
The winner is...
Carmen! Congratulations! I was enthralled by your photo...the tones, the creative pose, it's all so gorgeous.
-carlotta