kendall graham | interview 05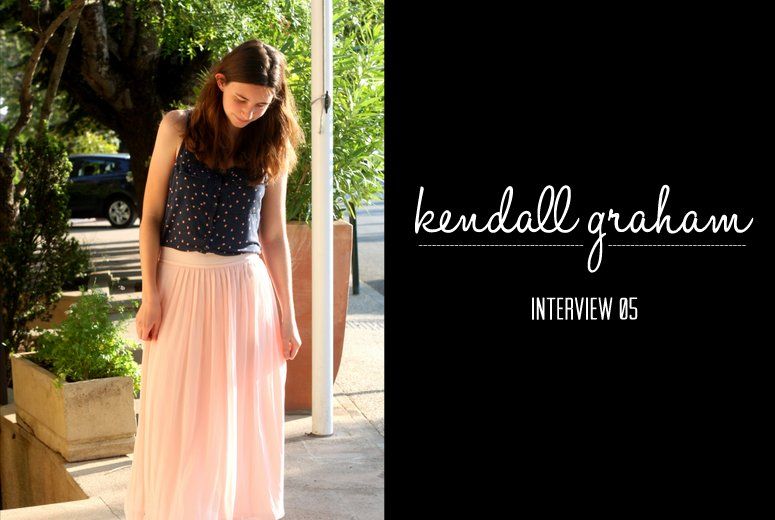 Kendall is just a really all-around amazing person. Her writing just blows me out of the water and her sense of humor is perfect. Plus, she lives in my home state, Texas! I'm not sure it can get much better.
Find her here: blog + twitter + tumblr + instagram
I'm Kendall, I'm seventeen, and I'm about to be a senior in high school. I've lived in Texas my whole life, and while I jump at every opportunity to travel, my favorite place is my hometown.
I love taking pictures, reading, and running -- well, actually, the latter is more of a love-hate relationship. Most of all, though, I love to write. It's how I make sense of the world. It's why I have a blog and why I have a stack of filled journals on my shelf -- on number six since April 2011. I have no idea what I want to do with my life but I know I want it to involve writing and helping + connecting with people.
Other than that, I'm always finding more things to love about living in this world. Some of my favorites: art museums, mountains, musicals, Friday night football games, karaoke, playing guitar, watching sunrises and sunsets, salted caramel everything, cruising through town with the windows rolled down and the radio on, flying kites, peanut butter straight from the jar, and laughing laughing laughing.
At first I may seem quiet, or serious, or any number of things, but I firmly believe everybody is so much more than they seem. (And yeah, serious I am not.)
eat
I enjoy breakfast foods in general way too much. In the summer, on average at least two of my meals are breakfast. I love pancakes and waffles and I think I'm legitimately addicted to cereal. I'm from Texas, too, so breakfast tacos are kind of why I live. And I won't deny that I've had queso before ten o'clock before. It's the reason I'll never be vegan. (But being 99.9% vegetarian counts for something, right?)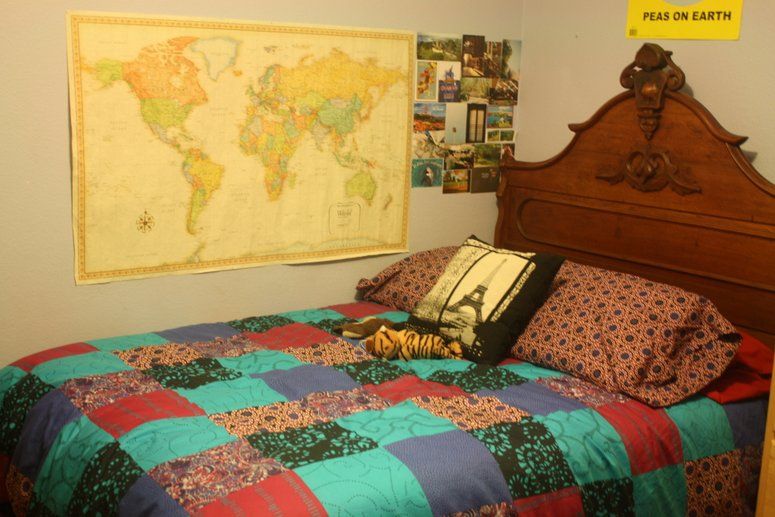 sleep
I love my world map that hangs by my bed. I love tracing my fingers from city to city, seeing all the places I've been, all the places I want to go, all the places the people I love are.
read
Alongside all my favorite novels like "The Book Thief" and "A Tree Grows in Brooklyn" and everything you've heard recommended to you before (but you should still read) on my shelf are some poetry anthologies. Some of my favorites are Pablo Neruda and W. H. Auden; I definitely recommend both of them. I also really love Mary Oliver, and I'm always on the lookout for new books and poems to read.
wear
To be honest, I go with the Nike shorts and T-shirt combination way too often. I mean, after looking decent (think: hair brushed, no clashing colors, etc.), comfort is my chief concern. I also like to buy dresses and then let them sit in my closet. And then there's this skirt, which I like to break out when I want to feel like I'm a fairy princess.
listen
I am practically always listening to music but whenever someone asks for a recommendation, it's something of a struggle. It's nothing much new, but lately I've been loving Ben Howard, Vampire Weekend, Arcade Fire, The Shins, Frank Ocean, Lana Del Rey, whatever's on the radio. As for individual songs, I have to say it feels like "Who Knows, Who Cares" by the Local Natives is kind of describing my life right now.
wild card
Whenever I have to play that "Two Truths and a Lie" game, I always say "I hate skiing" as one of my truths because it's apparently hard for people to fathom that anyone hates skiing. I think I just have too many traumatic memories of frozen extremities and getting stuck half way down the slopes and an image of my sister barreling into an unfortunate snowboarder at the bottom of the hill that will live with me forever. Oh! and those ski lifts. I don't really have a problem with heights if, you know, my legs aren't dangling over the open air with nothing to secure me in except one single flimsy bar while the lift moves swiftly on, not even stopping for you to get out. Yeah, that's really a safe operation you're running there, homie. No. I'd rather go ice-skating, if it has to be winter at all.
☼
see other interviews here