awkward and awesome thursday.
awkward
–
Tripping up the stairs. While people are watching you. Thank goodness for handrails.
–
Looking at food blogs while ravenous. Pure torture.
–

Finding the perfect pair of oxford pumps, the ones I've been searching for months, only to discover the sizes left were an eight and a half and a seven and a half. I wear a size eight. Why must I have the most common shoe size in the country?
–

Being an inch apart at eye level with a rattlesnake at the zoo, watching it in terrified awe (let's just say that I'm not exactly a snake lover). And then, two seconds after moving to another animal, hearing it strike your brother. Of course it was behind glass, but still...shudder.
–

Rude anonymous commenters. Why do those people feel to need to put others down like that? It makes me so sad.
–

Missing your mouth while eating, the food instead falling into your lap. Awkward.
awesome
–
Dark chocolate. The darker, the better.
–
Cookies that turn out perfectly. There's nothing more aggravating than a failed batch.
–
These knitted monsters. I die. And I now know what my next knitting project will be.
–

Laying in bed, looking around at my bedroom, bathed in soft grey early morning light, thinking and praying.
–

Finally getting around to redoing a wall of art in my room.
left: before, right: after
center: my great grandmother with frank sinatra (she was a reporter in hollywood), top and bottom: prints by me.
–

Watching Food Revolution. It's absolutely fantastic. Food is something that I've been paying a lot of attention to
–
where things like fruits, vegetables, and meat come from to if/how the food is processed to unhealthy additives that may be in it. I most definitely recommend watching the show on Hulu!
–

This quote: "Which of my photographs is my favorite? The one I'm going to take tomorrow."
–
Imogen Cunningham. Love.
–

The strawberries and sage growing in our garden. For the past month or so, all our salads have lettuce from the garden
Homegrown food = delicious.
Any awkward or awesome moments for you this week? Do tell!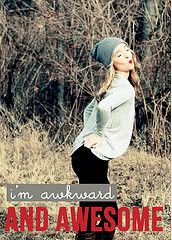 -carlotta