small steps
I've started working out every day this week. Before, exercising was a sporadic, whenever-I-think-of-it thing, but thanks to the
Nike Training Club
app, which is free and amazing, this may turn into something consistent (hold me accountable, y'all). Each time I want to give up, I visualize toned arms, a trim stomach, and keep on going. Bit by bit, I'm slowly advancing towards my goal. It's the small steps that ultimately end in a big accomplishment.
Yesterday I helped deliver food from the food pantry to some families who are down on their luck. The neighborhoods were full of homes with chipped, peeling paint, broken windows, and sagging roofs, a stark difference from the clean comfort I'm used to. We complained about the heat -- 112 degrees isn't exactly cool -- but we knew that when we got home, we'd be greeted by chilled air from the air conditioning. Some of these people didn't have that luxury. There is so much that they need and don't have; it made me wish I could do more than just bring food. But I suppose it's in small steps that they'll be able to get back on their feet.
The heat has demolished the tomato and squash plants, but the basil, sage, and arugula have thrived. Aromatic and fresh, there's truly nothing better than herbs from the garden.
In the blogging community, it's easy to become jealous of someone else's life, sometimes to the point of being completely consumed with wishing you had that person's life. But I'm striving to be content with what I do have. Even if life is quiet at the moment, I know it'll become a whirlwind in a few short weeks.
Yes, life hasn't been very exciting as of late, but that's okay. I'm learning to embrace the lazy summer days as much as a days of traveling and seeing new things. Items are slowly being checked off my to do list with Mumford & Sons pandora station in the background (pure brilliance) and I'm reveling in the little things like coffee alongside yogurt.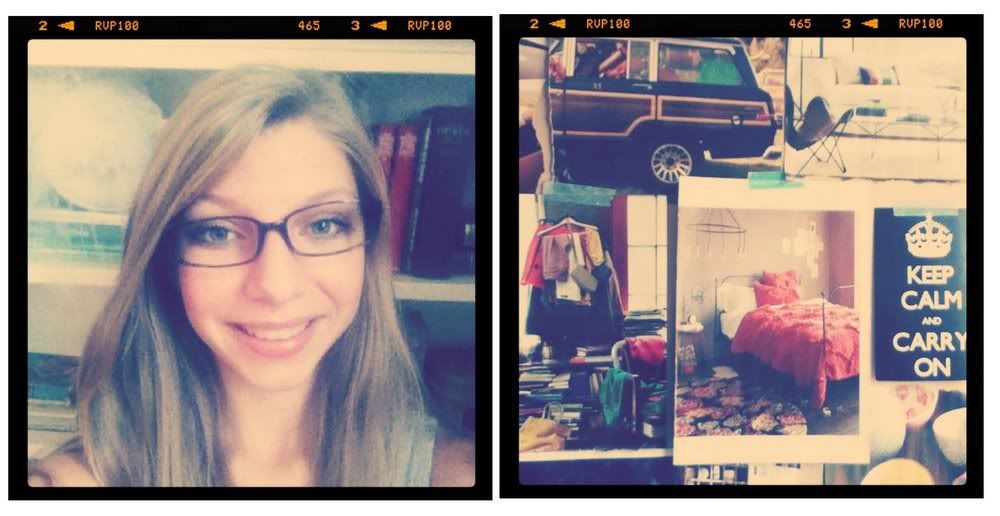 left: old glasses found while cleaning out my dresser (oh dear) right: pinning on my (real) inspiration board
After all, it's these little things that accomplish something big, no?
How are you spending the last few weeks of summer?
-carlotta
p.s. there are a few more spots left for august sponsorship! pastor's girl's ponderings is a wonderful place to advertise your shop/blog.
email me
if you're interested :)