black currant banana bread
Baking has never been a huge interest -- call me lazy, but I'd prefer to eat, thank you. The only time you'd find me whipping something up in the kitchen was when a craving struck. It wasn't until I began falling in love with the art of food photography that I realized if I wanted to photograph food, food had to be made -- and thus my journey into the realm of baking was born. It's a satisfying feeling, sifting and measuring and mixing seemingly unrelated basics to form something delicious, a feeling that's worth the flour everywhere and gooey bits of batter strewn about the counter.
Thursday mornings have been deemed as my baking day. I scour cookbooks and blogs through the week and enter the kitchen with a list of recipes. Three house later and a mess later -- unfortunately I'm not like chefs on Food Network that have everything perfectly organized and layed out, though I try, promise! -- timers ding and the smells in the kitchen make my stomach rumble. By the time lunch rolls around, I
feel like a nineteen fifties housewife
...except that statement is far from the truth.
Banana bread is one of those foods that evoke memories from long ago. I fondly recall running into the house following riding my bike around the neighborhood, and at all of six years old, the only thing on my mind was the smell of freshly baked banana bread wafting throughout the house. After waiting the five more minutes for the timer go off -- which felt more like five hours-- I snatched a slice, still steaming from the oven. It burned my mouth, yes, but it was the most delicious slice of banana bread I've ever had.
black currant banana bread
adapted from texas home cooking -- gingered banana bread
ingredients
1 3/4 cups all-purpose flour
2 1/2 teaspoons baking powder
1/2 teaspoon salt
1/2 cup sugar
1/3 cup unsalted butter, room temperature
2 eggs
1 1/2 cups mashed ripe bananas (approximately three bananas)
1/3 black currant jam (or other jam of your choice)
1/4 cup sour cream
3/4 teaspoon lemon or lime zest
3/4 cup chocolate chips (optional)
directions
Preheat oven to 350 degrees
Fahrenheit. Grease a 5-by-9 1/2 inch loaf pan. Sift together flour, baking powder, and salt into a small bowl. Set aside.
With a mixer, cream the sugar and butter together until light and fluffy. Add eggs, one at a time, beating well after each addition. Beat in mashed bananas, jam, sour cream, lemon or lime zest, and, if desired, chocolate chips. Spoon in the flour mixture about a third at a time, mixing until the batter is well combined. Pour batter into prepared pan; bake 60 to 65 minutes, or until a toothpick inserted in the center comes out clean. Serve warm.
This bread is perfectly moist and perfect for afternoon coffee, a party, or even breakfast. Even if you don't like bananas (and I'm not a huge fan), the flavor is cozy and comforting -- it almost made me wish it were cold and snowy outside. It brought back memories of childhood and our house in Texas and bike riding.
What's your take on baking?
Also, I got drawn! Is this not the coolest thing ever? I'm in love.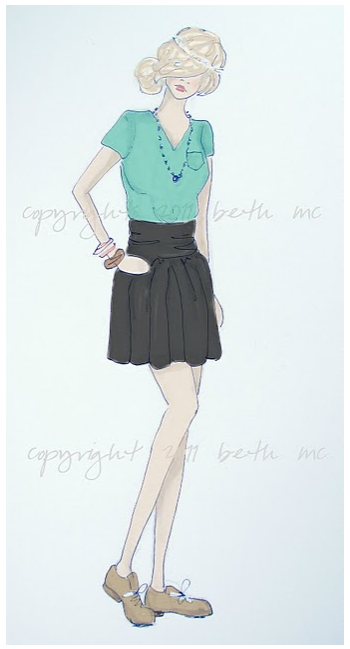 (see the post as well as two other bloggers drawn here)
-carlotta