"I like bread, and I like butter - but I like bread with butter best."
quote by sarah weiner
One of the most wonderful things about Europe is bread.
Bread everywhere.
Bread for breakfast. Bread for lunch. Bread for dinner.
Heck, bread for a midnight snack!
When I got back from Europe last year, though, I tried to give up grains for a bit, to give my body a little break from all those carbohydrates.
As expected, that lasted about a week.
Hey, at least I tried? E for effort and all that jazz.
My mom makes a mean sourdough bread that is the lifeblood of this household, but I decided to whip up a quick loaf of standard white bread last week. The basic recipe I used was from
Bread
, a new book that was kindly sent to me by the good people at
Anchorfolk
. I tweaked it a bit here and there, but I was quite pleased with how it turned out. It was a hearty loaf with a nice thick crust and I very much enjoyed eating the bread as a pear/blue cheese/honey panini.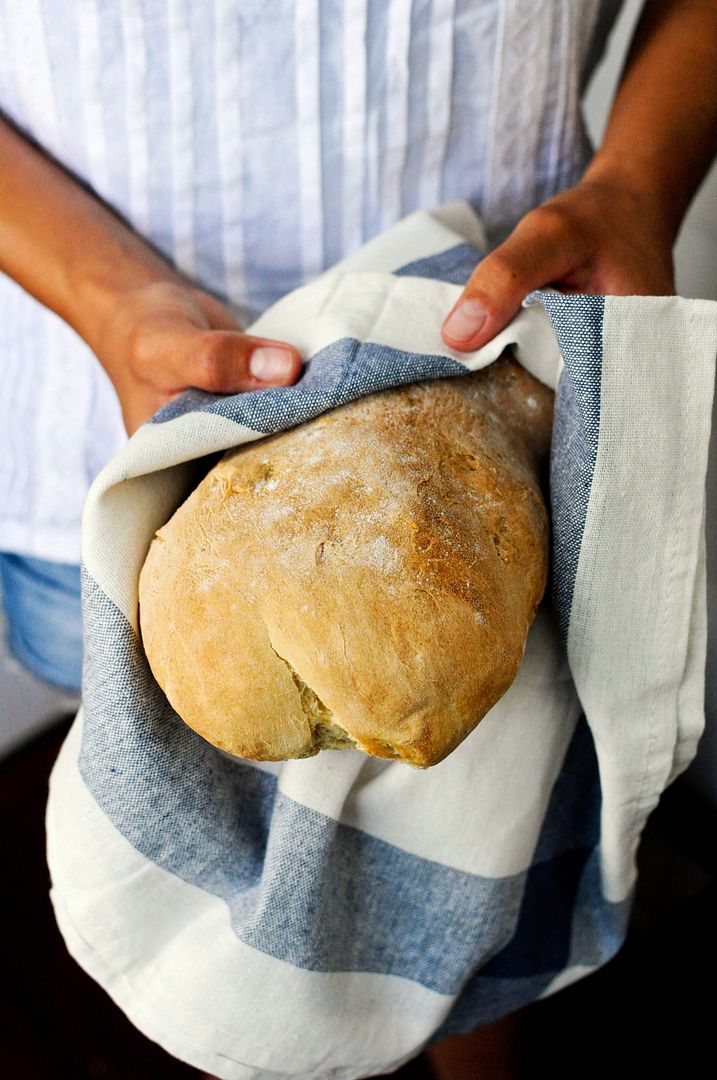 You can find the recipe after the break!
Basic White Bread
adapted from "basic white bread" found in the book
bread
ingredients
+ 6 cups bread flour, divided
+ 1 tablespoon sugar
+ 2 1/2 teaspoons salt
+ scant 2 teaspoons dry active yeast
+ 2 1/2 cups very warm water
+ 2 tablespoons melted butter
make
In a large mixing bowl*, combine 2 cups of flour, sugar, salt, and yeast. Add the water and butter, mixing until just combined. Gradually add in the rest of the flour until the dough forms a soft ball that gently pulls away from the bowl. Turn it out onto a lightly floured surface and knead until the dough is smooth and elastic (about 8 minutes), adding small amounts of flour as necessary. The dough should be fairly sticky. *
Place the dough in a lightly buttered or oiled bowl and turn the dough once to coat. Cover and let rise in a warm place for about 8 hours or overnight.
Preheat oven to 425°F. Turn the dough onto a lightly floured surface. Cut the dough in half. On baking stones covered in parchment paper, lightly shape the dough into loaves. Bake until the loaves are golden brown and sound hollow when tapped (about 20-25 minutes). Cool on a cooling rack.
Have at it, kids.
* I threw all the ingredients in a Bosch mixer & therefore didn't need to knead the dough, but if you don't have a mixer like that, the old fashioned way is just fine.